Self-assembling cyclic peptides as structure guides for nanostructured soft materials
Cyclic peptides exisiting of an alternating sequence of D- and L-amino acids possess a planar conformation, which allows theses molecules to form nanotubes by stacking onto each other. These rod-like nanoarchitectures are stabilized by inter-molecular hydrogen bonds. Interestingly, the residues of the amino acids point outwards and, hence, tailoring the chemistry of the outer surface of such peptide nanotubes is possible. In our research we attach initiator moieties to some of the amino acids and the latter are being used as initiation sites in controlled radical polymerization reactions, after self-assembling the initiator-modified peptide-rings. The resulting "peptide-polymer hybrid nanotubes" (PPNT) exhibt a rod-like core-shell architecture, where a rigid core (peptide nanotube) is surrounded by a soft polymeric shell. Similar structures can be formed by first generating cyclo-peptide-polymer conjugates in solution, followed by a solvent-triggered self-assembly process in situ. The length and the diameter of PPNT seem to be governed by peptide-peptide as well as polymer excluded volume interactions, and can thus be controlled within certain limitations by adjusting the length of the peptide-attached polymer molecules.
Biosynthetic peptides are being conjugated to synthetic polymers using both, divergent (i.e. where the polymer is prepared in situ using functional peptides as polymerization initiators or using peptides which are linked to polymerizable groups as monomers) as well as convergent strategies (i.e. linking pre-formed polymers to peptides). Peptide-polymers prepared by in situ polymerization include cyclo-peptide-polymers as outlined above, and bioactive peptide-polymers that interact with living cells in a desired fashion, as well as peptide-polymer materials that mimik mussel adhesive proteins. An example of a divergent synthesis of a biofunctional peptide-polymer conjugate is shown in the schematic illustration below. A cell-responsive peptide, carrying an ATRP initiator at the N-terminus is prepared by means of solid phase chemistry. This initator-modified peptide is then used to prepare peptide-polymers in situ. Molecular characteristics, such as the degree of polymerization, is controlled by adjusting appropriate polymerization conditions accordingly.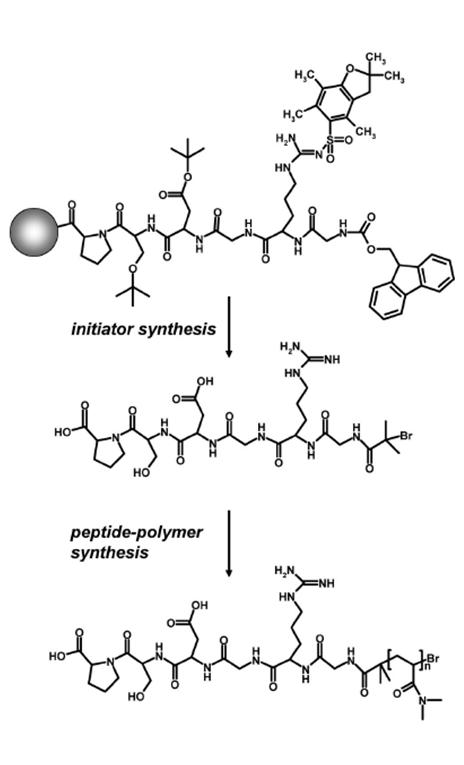 Despite modifying peptides with functional sites that can initiate a polymerization reaction, peptides can also be linked to functional groups that serve as a monomer species in a polymerization reaction. With respect to the latter, we have prepared so-called polymerizable peptide-amphiphiles, where functional peptides are linked to the polar head-group of a photo-polymerizable fatty acid. Examples include peptide-amphiphiles that carry a cell-responsive RGD-peptide as well as peptide-amphiphiles that are being modified with a functional ligand that is taken from the mussel-adhesive foot protein mefp-1 to generate adhesive nanocolloids. Again the synthesis is being performed by means of solid phase chemistry protocols.