Helical Polymers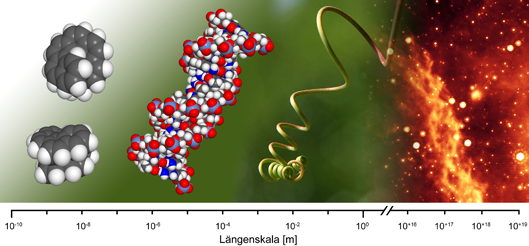 Introduction
A curve winding itself with constant slope around the lateral area of a cylinder is termed a (cylindrical) helix. Its creation can be visualized as the superposition of a rotatory and a translatory motion. A change in the direction of translation under constant sense of rotation (inversion of the propagation vector) leads to the formation of two helices being related to each other like image and mirror image. This way mutually non-superimposable left-handed (M-configured) and right-handed (P-configured) screws were generated. Such objects are ubiquitous on all length-scales (see Figure).
On a molecular scale helical structures serve in structurisation, in the organization of the dissemination of information in living systems (double-helical nucleic acids, RNS, DNA) as well as in the presentation and spatial orientation of functional groups involved in the realization of complex chemical processes in organisms (for example enzymatically active enzymes)..
It was this very last point which, in 1997, led us to the decision to design systems being able to fulfill tasks like this (in particular: asymmetric catalysis) without participation of biological macromolecules.[3]
Apart from the idea to apply helically-chiral polymers as ligands for transition metals in asymmetric catalysis (or organo catalysis), we later found another fascinating field of application for them. They are very well suited as chiral orienting media for the measurement of anisotropic NMR-parameters by NMR-spectroscopy.
This text is part of an article published in Labor&More in 2013: M. Reggelin, Labor&More 2013.
[2] http://www.spitzer.caltech.edu/images/2305-sig06-004-Double-Helix-Nebula.
[3] M. Reggelin, Nachr. Chem., Tech. Lab. 1997, 45, 1196-1201.
Publications
Chiral Alignmentmedia:
R. Berger, J. Courtieu, R. R. Gil, C. Griesinger, M. Köck, P. Lesot, B. Luy, D. Merlet, A. Navarro-Vázquez, M. Reggelin, U. M. Reinscheid, C. M. Thiele, M. Zweckstetter, "Is Enantiomer Assignment Possible by NMR Spectroscopy Using Residual Dipolar Couplings from Chiral Nonracemic Alignment Media?—A Critical Assessment", Angew. Chem. Int. Ed. 2012, 51, 8388-8391. DOI: 10.1002/anie.201107626.
N.-C. Meyer, A. Krupp, V. Schmidts, C. M. Thiele, M. Reggelin, "Polyacetylenes as Enantiodifferentiating Alignment Media", Angew. Chem. Int. Ed. 2012, 51, 8334-8338. DOI: 10.1002/anie.201201891.
A. Krupp, M. Reggelin, "Phenylalanine-based polyarylacetylenes as enantiomer-differentiating alignment media", Magn. Reson. Chem. 2012, 50, 45-52. DOI: 10.1002/mrc.3894.
L. Arnold, A. Marx, C. Thiele, M. Reggelin, "Polyguanidines as Chiral Orienting Media for Organic Compounds", Chem. Eur. J. 2010, 16, 10342-10346. DOI: 10.1002/chem.201000940.
Polymeric Catalysts:
J. Scholz, M. Reggelin, "Synthesis of diisocyanides with phenolic groups and their polymerization to helically chiral poly(quinoxaline-2,3-diyl)s", Journal of Polymer Science Part A: Polymer Chemistry 2015, 53, 1320-1329. DOI: 10.1002/pola.27580.
M. Reggelin, J. Scholz, M. Hamburger, "Helically Chiral Poly(quinoxalin-2,3-diyl)s: Toward the Synthesis of Stereoregular Polymeric Organocatalysts", J. Polym. Sci., Part A: Polym. Chem. 2009, 47, 4830-4839. DOI: 10.1002/Pola.23540.
M. Reggelin, C. A. Müller, T. Hoffart, M. Holbach, "Pyridyl N-oxide substituted helically chiral poly(methacrylate)s in asymmetric organocatalysis", Macromolecules 2005, 38, 5375-5380. DOI: 10.1021/ma0503357.
M. Reggelin, S. Dörr, M. Klußmann, M. Schultz, M. Holbach, "Helically chiral polymers: a class of ligands for asymmetric catalysis", Proc. Natl. Acad. Sci. U.S.A. 2004, 101, 5461-5466. DOI: 10.1073/pnas.0307443101.
M. Reggelin, M. Schultz, M. Holbach, "Helical chiral polymers without additional stereogenic units: a new class of ligands in asymmetric catalysis", Angew. Chem., Int. Ed. 2002, 41, 1614-1617. DOI: 10.1002/1521-3773(20020503)41:9<1614::AID-ANIE1614>3.0.CO;2-5.