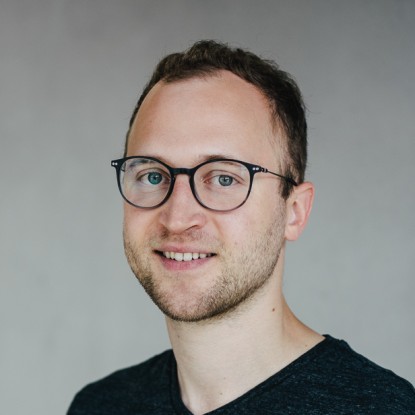 Working area(s)
Bachelor thesis 04/16 - 07/16, Student assistant 08/17 - 09/17, Master thesis 04/18 - 10/18, PhD thesis 12/18 -
Contact
jprimozic@thielelab.de
work +49 6151 16-21832

Work L2|07 13
Alarich-Weiss-Str. 16
64287 Darmstadt
Field of research
Investigation of reaction mechanisms using moderner NMR spectroscopy
Structure elucidation of reactive intermediates
Education
00 – 13
Primary and Secondary School, Groß-Umstadt
10/13 – 09/16
Bachelor of Science in Chemistry, Technische Universität Darmstadt, Darmstadt
10/16 – 02/17
Scientific Practical Course, Università degli Studi di Sassari, Sassari/Italy, with Prof. Dr.
Ugo G. Azzena
10/16 – 10/18
Master of Science in Chemistry, Technische Universität Darmstadt, Darmstadt
04/18 – 10/18
Master's thesis project, School of Chemistry, University of Edinburgh, Edinburgh/Scotland, with Prof. Dr. Guy C. Lloyd-Jones FRS
since 12/18
PhD Programme in Chemistry, Technische Universität Darmstadt, Darmstadt
Bachelor thesis
| | |
| --- | --- |
| Title | Influence of Decomposition Reactions on the Enantiodifferentiating Properties of PBDG |
| Group | Prof. Dr. C. M. Thiele |
| Place | Department of Chemistry, Technische Universität Darmstadt |
Master thesis
| | |
| --- | --- |
| Title | Mechanistic Investigation of the gem-Difluorocyclopropanation of Alkenes by TMSCF3 |
| Group | Prof. Dr. G. C. Lloyd-Jones FRS, Prof. Dr. C. M. Thiele |
| Place | School of Chemistry, University of Edinburgh, Edinburgh; Clemens-Schöpf-Institut für Organische Chemie und Biochemie, Fachbereich Chemie, Technische Universität Darmstadt |
Prizes and awards
| | |
| --- | --- |
| 10/17 – 09/18 | Deutschlandstipendium |
| 03/18 – 10/18 | Otto-Bayer-Scholarship, Bayer Science & Education Foundation |
| 08/19 – 08/21 | Kekulé-PhD-Fellowship, Chemical Industry Fund (FCI) |
Publications
1
D. Sinnaeve, J. Ilgen, M. E. Di Pietro, J. J. Primozic, V. Schmidts, C. M. Thiele, B. Luy
Probing long-range anisotropic interactions – A general and sign-sensitive strategy to measure 1H-1H residual dipolar couplings as a key advance for organic structure determination
Angew. Chem. Int. Ed. 2020, 59, ; 5316-5320Angew. Chem. 2020, 132, . [Raw Data: DOI 5354-5358] 10.6084/m9.figshare.11297651
2
A. García-Domínguez, T. H. West, J. J. Primozic, K. M. Grant, C. P. Johnston, G. G. Cumming, A. G. Leach, G. C. Lloyd-Jones
Difluorocarbene Generation from TMSCF3: Kinetics and Mechanism of NaI-Mediated and Si-Induced Anionic Chain Reactions
J. Am. Chem. Soc. 2020, 142, . 14649–14663
Poster
1
S. Weißheit, J. J. Primozic, C. M. Thiele
How Acidic Decomposition Products of CDCl3 Influence the Orientational Properties of Alignment Media
EUROMAR 2016, Aarhus/Denmark, 07/16.
2
J. J. Primozic, T. H. West, G. C. Lloyd-Jones
Mechanistic Insight into the Anion-Initiated gem-Difluorocyclopropanation of Alkenes by TMSCF3: Partition as Key Feature
691. WE-Heraeus-Seminar on "Physical Organic Chemistry: Recent developments in instrumentation, structure, theory, and mechanisms", Bad Honnef, 02/19.
3
J. J. Primozic, C. M. Thiele
Diastereodivergent Asymmetric Allylic Alkylation of Cyclobutenes: Kinetics and HPLC-MS Studies
International Symposium on Synthesis and Catalysis 2021, Évora/Portugal, 09/21.