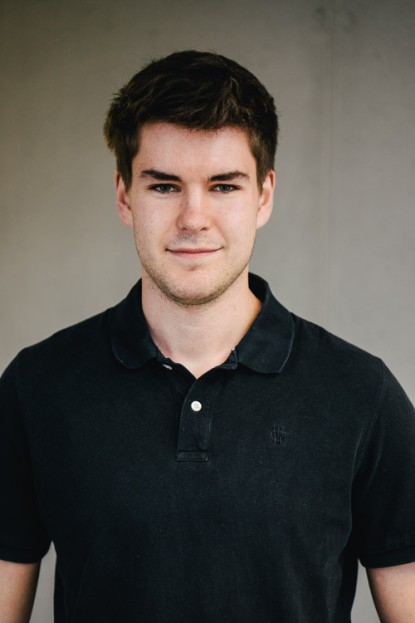 Working area(s)
Bachelor thesis 08/14 - 10/14, Master thesis 09/16 - 03/17, PhD thesis 04/17 - 01/21, PostDoc 02/21 - 10/21
Contact
Field of research
Synthesis of side-chain functionalized polyaspartates
Investigations of polyaspartates as alignment media in NMR spectroscopy
emulsion polymerization of N-carboxyanhydrides to (homo-) polypeptides
Education
| | |
| --- | --- |
| 06/11 | High School Graduation |
| 10/11 – 10/14 | Study of Chemistry B. Sc., Technische Universität Darmstadt, Darmstadt |
| 04/16 – 07/16 | Internship BASF, BASF, Research & Development, Unit Fungicides, Ludwigshafen |
| 10/14 – 04/17 | Study of Chemistry M. Sc., Technical University of Darmstadt, Darmstadt |
| 04/17 – 01/21 | Study of Chemistry Doctorate, Technical University of Darmstadt, Darmstadt |
Prizes and awards
| | |
| --- | --- |
| 10/14 – 09/15 | Student fellowship (Deutschlandstipendium) |
| 12/15 | Award of the Dr.-Anton-Keller-Foundation at Technische Universität Darmstadt |
| 09/19 | SMASH Student Stipend |
Bachelor thesis
| | |
| --- | --- |
| Title | Investigations on the synthesis of polyphosphazenes |
| Group | Prof. Dr. C. M. Thiele |
| Place | Department of Chemistry, Technische Universität Darmstadt |
Master thesis
| | |
| --- | --- |
| Title | Synthesis and characterization of left-handed helical poly-L-aspartates as alignment media for NMR spectroscopy |
| Group | Prof. Dr. C. M. Thiele |
| Place | Department of Chemistry, Technische Universität Darmstadt |
Talks
1
Thermo- and Magnetoresponsive Polyaspartates
Chirality 2019, Bordeaux/France, 07/19.
Publications
1
M. Hirschmann, M. Schwab, C. M. Thiele
Molecular Weights: The Key for Lyotropic Liquid Crystalline Phases of Poly-β-benzyl-L-aspartate
Macromolecules 2019, 52, . 6025-6034
2
M. Hirschmann, C. Merten, C. M. Thiele
Treating Anisotropic Artefacts in Circular Dichroism Spectroscopy Enables Investigation of Lyotropic Liquid Crystalline Polyaspartate Solutions
Soft Matter 2021, 17, . 2849-2856
3
M. Hirschmann, D. S. Schirra, C. M. Thiele
Copolyaspartates: Uncovering Simultaneous Thermo and Magnetoresponsiveness
Macromolecules 2021, 54, . 1648-1656
4
D. S. Schirra, M. Hirschmann, I. A. Radulov, M. Lehmann, C. M. Thiele
Investigations of the alignment process of homopolyglutamate-based LLC phases: Deuterium NMR analysis of PBPMLG reveals a 90° flip of the polymer
Angew. Chem. 2021, 133, , 21208-21214Angew. Chem. Int. Ed. 2021, 60, . 21040-21046
5
K. Knoll, D. Herold, M. Hirschmann, C. M. Thiele
A Supramolecular and Liquid Crystalline water-based Alignment Medium based on Azobenzene-substituted 1,3,5-Benzenetricarboxamides
Magn. Reson. Chem. 2022, 60, . 563-571
6
M. Hirschmann, O. Soltwedel, P. Ritzert, R. von Klitzing, C. M. Thiele
Light-Controlled Lyotropic Liquid Crystallinity of Polyaspartates Exploited as Photo-Switchable Alignment Medium
J. Am. Chem. Soc. 2023, 145, . 3615-3623
Poster
1
M. Schwab, M. Hirschmann, C. M. Thiele
Hot and Cool RDCs: Investigations on the Alignment Process
SMASH 2017, Baveno/Italy, 09/17.
2
M. Hirschmann, M. Schwab, C. M. Thiele
Thermoresponsive Polyaspartates: Helixreversal in liquid crystalline phases
Orchem 2018, Berlin, 09/18.
3
M. Hirschmann, C. M. Thiele
Polyaspartates: Alignment Media with Unexpected Behaviour
SMASH 2019, Porto/Portugal, 09/19.