Developing novel catalysts from enzymes
PhD network MetRaZymes receives funding as Marie Skłodowska-Curie action
2022/11/30 by Bruns/cst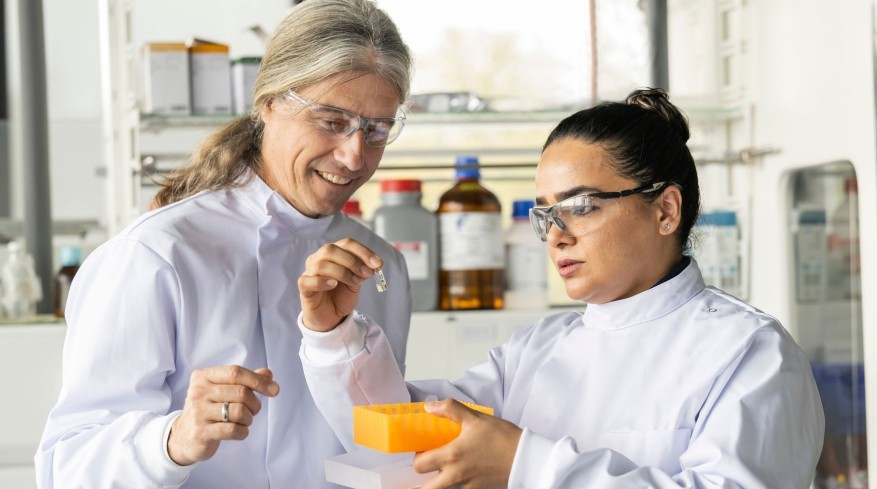 TU Darmstadt coordinates the Marie Skłodowska-Curie Network "Metal-Containing Radical Enzymes – MetRaZymes" under the leadership of Professor Nico Bruns from the Department of Chemistry. The project, funded by the EU, Switzerland and the UK with more than three million euros, will enable 13 PhD students to develop novel enzymes as environmentally friendly and efficient catalysts for radical reactions to produce drugs, polymers and other chemical compounds.
Enzymes and proteins that contain metal ions are widespread in nature. For example, they catalyze biochemical reactions to break down peroxides or build biogenic polymers such as lignin. They also ensure the transport of oxygen in the blood and cells. Such metalloenzymes can also be used for the sustainable and highly targeted synthesis of active pharmaceutical ingredients or synthetic polymers.
Within MetRaZymes, an international and interdisciplinary project team develops and engineers metalloenzymes that can produce useful chemical compounds such as drug intermediates or functional polymers by means of radical reactions. The focus is on both the development and engineering of artificial metalloenzymes and of repurposed natural metalloenzymes through the interplay of experimental and computational methods, as well as on the process control of the biocatalytic reactions and the scalability of enzyme production.
Training leaders for sustainable chemistry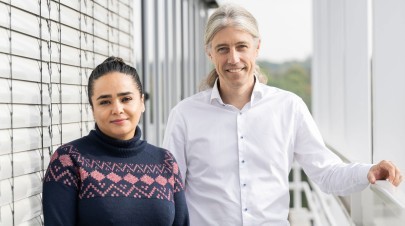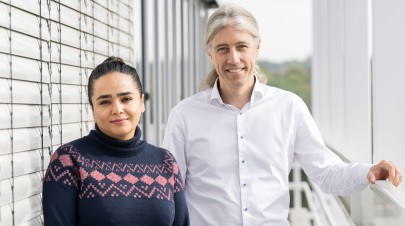 The PhD students trained in the project will, through the diverse training program of this international graduate school and in close cooperation with the industrial partners of the network, be enabled to take on leading roles in industry and research in the field of biotechnology and sustainable chemistry after their graduation. They will thus make an important contribution to the transformation towards sustainable and bio-based pharmaceutical, chemical and biotechnological industries in Europe.
MetRaZymes strengthens the portfolio of the research area "Polymer Science & Engineering" of the Department of Chemistry at TU Darmstadt and is an important building block for the international cooperation and visibility of the TU in the field of chemistry and biotechnology.
In MetRaZymes, besides two PhD students, the project manager Dr. Raheleh Pardehkhorram, and the coordinator Professor Nico Bruns in the Department of Chemistry, the following university partners will collaborate: University of Groningen (Prof. Gerard Roelfes and Prof. Katja Loos), University of Strasbourg (Dr. Vincent Lebrun), University of Natural Resources and Life Sciences, Vienna (Prof. Chris Oostenbrink), University of Milan (Prof. Ivano Eberini), University of Stuttgart (Prof. Ralf Takors), Technical University of Dortmund (Prof. Joerg C. Tiller), University of Strathclyde, Glasgow (Dr. David S. Palmer), University of Basel (Prof. Thomas R. Ward), ETH Zurich (Prof. Sven Panke), and University of Bern (Prof. Francesca Paradisi). Training and communication partners are Thales Akademie GmbH (Germany), Nature Portfolio (UK/Netherlands), Biofaction KG (Austria), Wikimedia (Switzerland) and the Industrial Biotechnology Innovation Centre IBioIC (UK). Industry partners who will provide internships for the PhD students include Novozymes A/S (Denmark), BRAIN AG (Germany), Johnson Matthey PLC (UK), BASF SE (Germany), Novartis Pharma AG (Switzerland), Oxford Biotrans Ltd (UK), NovAliX SAS (France) and Corning SAS (France).
Marie Skłodowska-Curie Actions (MSCA) were established by the European Commission to promote transnational and intersectoral mobility and career development of researchers and to enhance the attractiveness of scientific careers. Support is provided for doctoral training networks, research stays by experienced researchers, staff exchange programs, and mobility programs.